THE BEST DSLR CAMERAS FOR VIDEO IN 2021
It's time for another blog post from Black Fox! In this post, we'll be discussing what we consider the top DSLR video cameras of 2021 (or, at least, the cameras that have been released thus far). There are many models and brands out there, so which one do you pick? Let's not waste any more time and get right into it! Here are our picks for the best DSLR video cameras of the year.
Continuous shooting speed: 12fps (6k 30fps, 4k 60fps)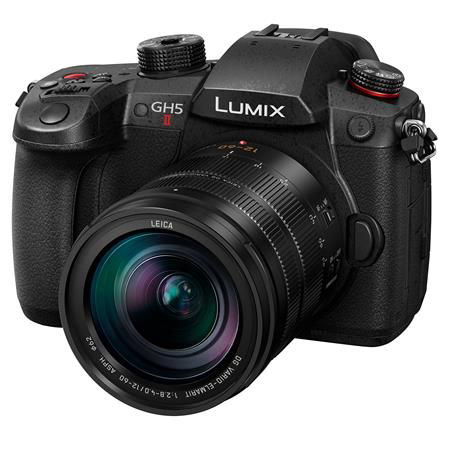 In this "refresh" of the classic Panasonic GH5 (which, as many of you know, is a personal favorite of mine), the idea behind the GH5 II seemed to update the original GH5 for modern professionals. At a price tag of $1697.99, I think this camera is a perfect mid-ground for professional video shooters looking to work their way up to more powerful cameras. Not to mention, you can shoot grade-A video while also being mobile and compact.
There is also a big catch that we must note if you're considering buying this camera: the GH6 is right around the corner in Panasonic's release calendar. With the camera due for release by the end of the year, it may be worth your wait to see what the GH6 will be capable of doing. Until then, we recommend the GH5 II if you're looking for an in-between upgrade.
Max continuous shooting speed: 10fps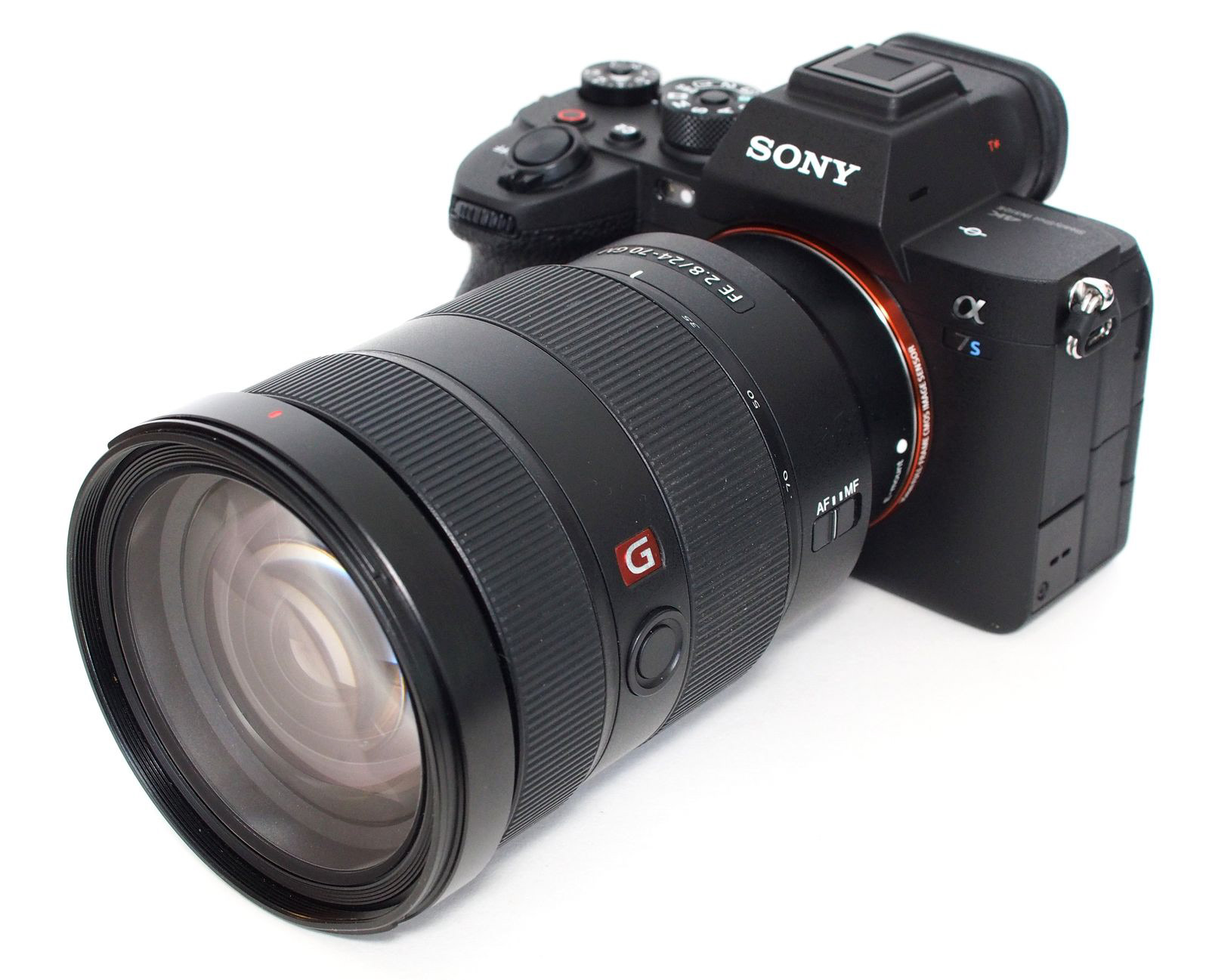 Although the Sony A7S III is more expensive, you'll know where that money went: the camera is a low-light powerhouse. We could consider the camera a natural upgrade from the popular Panasonic GH5S, which - at the time of its release - was the king of low light.

The camera also boasts a full-frame sensor and a feature that no other camera in its class currently offers: 4K 60P video with no crop. Pretty impressive for a compact DSLR body.
Sensor resolution: 24.2MP
4K frame rates: 60, 50, 30, 25, 24p
Standard ISO range: Dual Native ISO, 100-51,200
Memory cards: 2x SD/SDHC/SDXC (UHS II)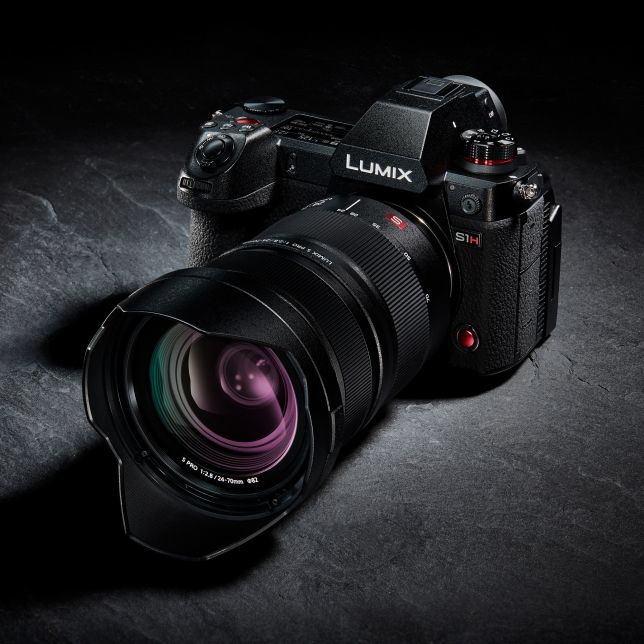 The big sister of the GH series and also one of the pricer cameras on this list, the powerful S1H sports 6K video resolution and official accreditation from steaming giant Netflix. Considered a "bridge" from professional videographers to outright filmmakers, we consider this the best filmmaking 4K DSLR camera at its price point. We would also argue that the upcoming GH6 is the GH line's response to the S1H: a nearly as powerful camera body aimed at filmmakers in search of a more affordable option. The color science, low light performance, and in-between camera body size of the S1H make this an ideal choice if you're considering a career in filmmaking.
Sensor resolution: 24.2MP
4K frame rates: 60, 50, 30, 25, 24p
4K sensor crop factor: 1x
Standard ISO range: Dual Native ISO, 100-51,200
Memory cards: 2x SD/SDHC/SDXC (1 UHS II, 1UHS I)
A perfect DSLR for beginners looking for an introduction to the world of 4K video, the affordable S5 packs an impressive full-frame sensor into a compact body. For run-and-gun shooters, it also sports a weather-resistant body. If you travel frequently and want to travel light while not sacrificing quality, this camera is a great option. The S5 is considered to have some of the best video shooting performance for a camera in its class. So if you're considering, say, the S1H, but not ready for that much camera yet, we recommend the S5 at its unbeatable price point.
Best for Hybrid Video/Stills
Type: MirrorlessSensor: APS-C
Max continuous shooting speed: 30/15fps
User level: Expert/professional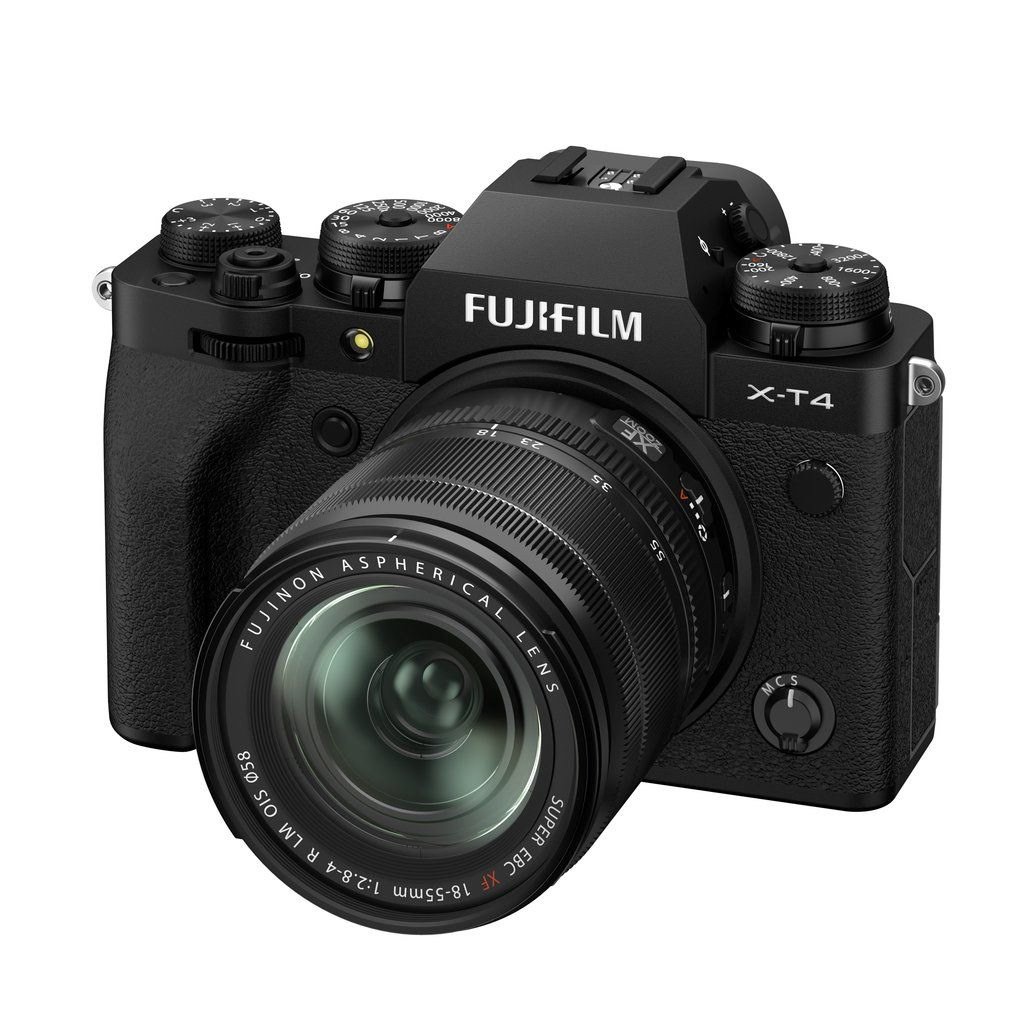 Everyone seems to be losing their minds over full-frame cameras these days, but let's not ignore the DSLRs that boast excellent 4K video capability at very affordable pricing, such as the Fujifilm X-T4. The camera also features a major plus for run-and-gun shooters: new in-camera stabilization that virtually eliminates the need for a gimbal. An almost direct competitor to the GH5 II, the X-T4 is capable of internal 10-bit 4:2:2 video recording. If you're looking for a hybrid in terms of size, performance, and an affordable price tag, the X-T4 is hard to beat.
Okay! That's it for this week's post. We hope you've found these tips useful, and good luck in purchasing your camera!
HOW TO CHOOSE YOUR BEGINNER VIDEO CAMERA
Choosing your first video camera can be an intimidating task for any aspiring filmmaker. Out of all the equipment in your kit, the camera body is likely to be your most expensive purchase. There are so many brands, so many price tags, and oh so many specs to sort through. So where do you start? Before you click your dream camera into the online cart for checkout, there are some very important questions you should ask yourself before you decide which camera is right for you. The answers to these questions will help you determine the grade of the camera you need, and therefore, the amount you're likely to spend. So let's get right to it!
Before setting out on your quest for the ultimate dream camera, it's very normal for many aspiring filmmakers to begin shooting with a lower-grade camera. But which one do you choose? Some simple Googling can provide many of the answers you need. I plan to write another blog post about this in the future, but there are lots of articles on the internet detailing the top DSLR choices among video shooters. Seeing as cameras are being constantly updated to newer versions, it will be worth your time to research the models that are the most up-to-date. Before purchasing a camera, I like to watch video test footage shot by other professional videographers. This will give you a first-hand demo of what the camera is capable of. For example, what resolution does the camera shoot in? How's the camera's low-light performance? What about battery life? These are all things to consider before spending your hard-earned cash on a new camera.
WHERE DO YOU WANT YOUR VIDEOS TO BE SEEN?
This is probably the most important question you can ask yourself when considering the camera you should buy. Are you planning to make a feature film? Are you intending to distribute video to social media sites such as Instagram only? Every camera - from the phone in your pocket to the big, heavy cameras used on film sets - was designed with an intended consumer base in mind. And in the modern world of digital production, there are now more options than ever for getting your content in front of an audience. It's both the most exciting time for filmmakers and video shooters, but also the most competitive, and that won't change anytime soon. It's extremely important for you to decide from the outset how you want to position yourself in the ever-growing world of online video content. The good news is there are many affordable cameras on the market for producing cinema-level video. If you want to be a full-fledged filmmaker, DSLRs are a perfect blend of affordable and compact. As I've noted on this blog many times, a camera in the mid-range (such as the Panasonic GH series) is great for run-and-gun videographers such as myself. Decide which distribution channel you want to target, and base the class of the camera from this point onward.
If you're on a budget, there's no shame in purchasing a camera you can afford. I remember the first project I ever made was shot on a tiny Sony Handycam (and this was when digital cameras were still shooting on videotapes). I couldn't afford my own camera, so I borrowed one from my roommate. You'd probably laugh at the video quality now, compared to the ubiquitous 4K standard of the modern era. And if you can't afford a camera yet, start shooting video on your phone and editing it together. Keep in mind: there are entire feature films that have been shot on phones (Unsane and Tangerine are just a couple of major films that come to mind).
I can tell you from experience that a more expensive camera does not necessarily equate to a higher quality video. If you light your shot just right, you can make a $500 video camera look like you shot on a camera that costs ten times as much.
Do not fret over purchasing a cheaper starter camera. Unless you're filthy rich, no one starts shooting on the Red Komodo on their first try. If you have years of shooting experience under your belt, you could potentially beat out the guy with a camera that costs as much as a new car - if you're script is strong, your lighting and sound are on-point, and your actors give it everything they've got.
The overall point is this: there's MUCH MORE to production value than an expensive camera. Practice your shooting, and keep on shooting, and shoot some more, and eventually, your video will look cinema-worthy from sheer experience alone.
HOW MOBILE WOULD YOU LIKE TO BE?
This is probably one of the minor considerations when deciding on a camera, but it's definitely worth mentioning: the weight of the camera you're going to be carrying around should weigh into your decision. If you're planning to be a run-and-gun videographer, DSLRs are probably your best choice for fast-paced movement. If you're planning to make a feature film, cameras in the higher grades (such as the Sony FX series or Red cameras) might be the right pick for you. If you're a wedding videographer, it's absolutely worth your while to consider how much weight you'll be lugging around all day (anything but a lightweight DSLR will probably tire out your arms). You also need to consider the payload limit of your gimbal. Obviously, a Ronin RS2 will not be able to handle a fully-rigged Arri Alexa; you would damage the motors and ruin the gimbal. Make sure to do some research on the weight and dimensions of the camera. That way, you'll know what kind of camera support will be needed before you head out into the field (whether that's a heavy-duty tripod or full-fledged Steadicam).
CONSIDER RENTING THE CAMERA FIRST
A perfectly reasonable decision is to rent the camera before you buy it. There's no better test of the camera than renting it out for a few days, shooting some footage over the course of a weekend, and evaluating the results. This will not only help you get oriented with the nuances of the camera, but it will also introduce you to the settings available in the firmware. Seeing as each camera is a little bit different (especially in the settings and menu department), this will give you a head start in shooting with each particular model. Companies such as Aperturent.com will allow you to rent a camera and lenses for several days - or even a whole week - for very reasonable prices. What do you have to lose? If you don't like the camera, you can always try out another until you find the right fit for you.
SEEK OUT ADVICE FROM PROFESSIONAL FILMMAKERS
Everyone needs some advice every once in a while. This might be more in line with "doing your research," mentioned above, but watch tutorials on the internet from professional filmmakers who have used the camera you're thinking of buying. A lot of videographers post reviews of brand new cameras that hit the market, breaking down the pros and cons they've found with each. They will often post test footage to give you an idea of the camera's capabilities. These are extremely helpful: not just knowing the positives and negatives of the camera, but also seeing what an experienced filmmaker thinks from his professional standpoint. You can bet money that when the Panasonic GH6 is released later this year, I'll be posting a video review after shooting with it for a while!
Okay! That's it for today's blog post. I hope you've found these tips useful, and good luck in purchasing your first starter camera! I'll be posting another blog post soon detailing specifics on digital cameras for filmmakers and videographers. See you soon!
7 TIPS FOR PICKING A WEDDING VIDEOGRAPHER
It's time for another blog post from Black Fox! Up until this point in our blog posts, we've been discussing a lot of the ins and outs of video production from the perspective of professionals.
But this time, we'll be going in the reverse: this post is for couples out there looking for a wedding videographer, not professional videographers themselves. Some people opt to forego a wedding videographer altogether and stick strictly with photography, but I believe that video can capture moments all-too-often missed on your special day. Your video will be an artifact from your wedding that you'll be able to enjoy for years to come, so you want to make sure you find the right videographer for you! Here are some tips on how to pick the right one.
TIP #1: LOOK AT OTHER EXAMPLES OF WEDDING VIDEOS
There are lots of wedding videos all over YouTube! A good practice is to look for a video that fits you and your fiance's personal style. You'll want to find a wedding video that makes you say, "Oh, I like that a lot. I want a video just like it." The prevailing style among wedding videos in the modern era is cinematic and epic in scope. It's also extremely helpful when you approach a videographer with an example in hand. This will give the videographer a good sense of what you would like to achieve with your video.
TIP#2: DECIDE ON A BUDGET
This is probably your biggest consideration. The price tag of wedding videographers can vary wildly: some charge $500, others charge $10,000… and that's just for the base package. As a general rule of thumb when it comes to wedding videographers, their services are like any other professional when you go shopping: you get what you pay for. The quality of your video is often directly proportional to the amount you're willing to pay. I've seen some wedding videos that look like Hollywood productions, and I've seen others that look like they were shot on iPhones. It all depends on how much you're willing to spend, and that often correlates strongly with the quality of the video you'll receive.
TIP #3: RESEARCH YOUR WEDDING VIDEOGRAPHER THOROUGHLY
Once you've decided on a budget, it's time to start searching for your wedding videographer. Some companies specialize in producing wedding videos only, but often you'll be speaking directly with the videographer themselves. Wedding vendor search engines like Wedding Wire and The Knot are excellent places to start. You can search through a variety of videographers using this method, and it will even narrow down your search results based on region. Check out some of the reviews from other clients and look at some of their other videos. Often, one will stick out to you, and you'll say, "That looks just right."
TIP #4: SCHEDULE AN INITIAL PHONE CALL OR VIDEO MEETING
After you've decided on a videographer that you like, reach out to them and ask for any further details you might be looking for: information on packages, availability, and anything else, in general, you might want to ask. When you have an initial phone call with them, see if your personality matches up. If you're looking for a bold new wedding video that breaks many rules, you'll want to find videographers who aren't afraid to take risks. They can be hard to find, but they're out there! Make sure you take the time to find the right match in your videography team.
TIP #5: TELL THE VIDEOGRAPHERS AS MUCH AS YOU CAN ABOUT WHAT YOU ARE WANTING (OR NOT WANTING)
During the initial video meeting or afterward, it will help your videography team enormously to tell them as many details as possible about what you want. If you want first looks with Dad, or any other can't-miss moments, be sure to voice this to your videography team. The more details you give them, the better. Big bonus points if you send them examples of other videos you hope to emulate. Conversely, you might simply tell them, "Everything is up to you! Go crazy! Just make it look good." And that's perfectly fine - just make sure you communicate this early on. If the videographer starts raising objections to your every request, then they probably aren't the right team for you. You'll want a team that can say "This is realistic and we can get that done for you," or, if it isn't technically possible, "I'm really sorry, but that's outside of the scope of our services." A good sign of a professional videographer is their ability to be completely transparent with you at all times by communicating what's realistic and what isn't.
TIP #6: PROVIDE LOGISTICAL DETAILS TO YOUR VIDEOGRAPHY TEAM
Your videographer will want to know, first and foremost, where your venue is located. And, of course, the wedding date itself. Something that will help them tremendously is by giving them contact info for your wedding planner. Your videographer will want to communicate with them about any logistical details such as the itinerary (and that's huge as far as planning out a shooting schedule).
TIP #7: BE READY TO SIGN A CONTRACT AND PUT DOWN A DEPOSIT
So you've got a videographer picked out, you've communicated all the above details to them, and now you're ready to sign with them. Typically, a wedding videographer will request a signed contract and a deposit before agreeing to shoot your wedding. This is pretty standard in the industry. Just make sure you read it thoroughly! While it's unlikely you'd be signing your life away, you'll want to make sure you understand all the details involving payment, the scope of their services, and other details you might've missed.
​​​​​​​
Alright! That's it for this blog post. We hope you found these tips useful, and good luck in picking your wedding videographer for your big day!
10 TIPS FOR HOW TO SHOOT A WEDDING VIDEO (PART 3 - AFTER THE SHOOT)
July 20th, 2021
In our conclusion to the "How to Shoot a Wedding Video" series, we'll be discussing what to do after you've gotten the hardest part out of the way: actually having shot the video. We'll be diving into this lengthiest part of the video production process, lightly talking about post-production (although this won't be the primary focus of the post. I could spend several posts discussing color correction alone!). So let's dive right in.
The hardest part of the video production process (actually shooting the wedding) is now out of the way. No doubt, you will feel exhausted and tired once the shoot is over, and it's important that you rest for at least a day or two. The day after the wedding, don't touch or review the footage. In fact, it's advisable that you do anything else besides work on the video. Lay around and watch movies, get outside and go for a hike, take some time to exercise - do literally anything that will decompress your mind and body from the intense amount of work you did the day before. I usually make an effort to do virtually nothing the day after the wedding.
TIP #2: RE-CHECK YOUR EQUIPMENT
Once you've had a day or two or rest, it's time to check over your equipment. I treat myself as my own rental house, as though I had rented the equipment from someone else. If you were checking in your equipment to a real rental house after a shoot, you would no doubt want to make sure that everything is accounted for and in proper working condition. I have a checklist of my gear that I check off one piece at a time to make sure that I haven't lost anything. In film school, I actually had three different columns for equipment check: before, during, and after the shoot. You can't check your equipment too many times! There's no worse feeling than discovering you've left a piece of equipment at the shooting location.
TIP #3: FOLLOW-UP WITH THE COUPLE
Be sure to thank your couple for being a part of their special day, while also getting the opportunity to help them create a video artifact that they'll cherish for years to come. Let them know you had a great time, and you can't wait to show them some footage!
TIP #4: BEGIN THE POST-PRODUCTION PROCESS
I won't spend an elaborate amount of time getting into the minutiae of the editing process here. I could easily spend an entire post talking about transcoding your footage alone. But there is an important note here that I think is worth highlighting:
Remember that this process is going to take a while. The editing phase of production is often the lengthiest and most time consuming part of making a video.
Be patient. Crafting the storyline of your video can be intimidating from the sheer amount of footage involved. Take your time to think through this couple's story, and how you generally want to put it together.
My timeline will usually go something like this:
Day 1: Ingest, backing up footage, transcoding, and setting up project files.
Day 2: Folder organization within project, begin reviewing footage, and music selection
Day 3: Actual editing begins
End of Week 1: Teaser provided to couple
End of Week 2: Rough cut provided to couple
End of Week 3: Tweaks, revisions implemented
End of Week 4: Release on social media
End of Week 5: Follow-up and ordering external media drives (such as USB)
Notice that the entire process takes about a month. This is an extremely generalized timeline, but it will give you a good idea of the process I usually go through to the get the video edited and completed. There are some videographers that spend MONTHS editing a single video, making sure that every cut is perfect. There's nothing wrong with perfectionism (I'm definitely in that camp), but I try to deliver a couple's video within a timely manner. I make it clear to them, from the beginning, that it will probably be about a month or more before they see a finished product.
TIP #5: PROVIDE A SOCIAL MEDIA TEASER TO THE COUPLE
I typically provide a social media teaser about a week after the shoot. This accomplishes several things all in one: your couple gets a snapshot of what they can expect in their video, it builds excitement for the video's release on social media, and it lets the couple know you are actively working to get it finished. In other words, you won't leave them hanging throughout the editing process.
TIP #6: COMMUNICATE WITH THE COUPLE THROUGHOUT
Once again, communication! Make sure you are keeping the couple updated through the entire editing process. An update once a week is usually a pretty good average. You can say that they're footage is looking great, you can't wait for them to see the finished cut, or anything that will let them know you're working hard to get them a quality edit.
TIP #7: PROVIDE A ROUGH CUT FOR REVISIONS
Once you've edited the video, send a rough cut of the video to the couple for any revisions. Be open minded and accommodating during this process. In my experience, any revisions requested by the couple are minor. Implement the revisions, then rinse and repeat until the couple is happy. 
TIP #8: SCHEDULE A RELEASE DATE
The couple has signed off on the final cut of the video; it's polished and ready for the world to see. Build up excitement on social media by scheduling a premiere date.
TIP #9: ACTUAL RELEASE. SIT BACK AND RELAX!
The moment you've been waiting for. Sit back and let those sweet view counts and shares roll in!
TIP #10: FOLLOW-UP AFTER RELEASE
After the video has been released, follow up with the couple once again and thank them for being so awesome to work with! Export their deliverables onto a USB drive and send it their way. Later down the line, you can even repost their video on their anniversary to congratulate them and see how their newlywed life is going. They'll appreciate that you had their special day in mind!
Okay! That concludes our "How to Shoot a Wedding Video" series. At some point I hope to make a full-fledged vlog highlighting the process I go through to shoot weddings on actual wedding day, but we hope all these tips have been useful. Good luck shooting your weddings!
10 TIPS FOR HOW TO SHOOT A WEDDING VIDEO (PART 2 - DURING THE SHOOT)
Welcome to Part 2 of our "How to Shoot a Wedding Video" series! In this post, we'll be discussing the phase of production that's often the most stressful and labor intensive: actually shooting the wedding. At some point, I may create a vlog taking you through an actual day of filming, but for now we can go over some of the basics. Let's get goin'!
TIP #1: ARRIVE AT THE VENUE EARLY
In the same way you'd arrive for a job interview 30 minutes prior to the actual interview, you want to build in a solid half an hour of getting your bearings once you arrive. You're not worried about shooting just yet. You'll want to have a look around simply to see how things are laid out (and if you visited the venue beforehand, as discussed in Part 1, you'll be that much more prepared). For example, where is the groomsmen parlor located? Where will the wedding ceremony be taking place?
After you've had a look around and gotten your bearings, touch base with the couple and wedding planner. Typically, the bride and bridesmaids arrive in the morning because their makeup and hair takes much longer than the groomsmen. Here you can go over your plan for the day, tell them any specific shots you've got planned, and after that, you'll probably want to leave them alone for a while. Their day is going to be very busy and hectic all the way into the evening.
Make any last minute adjustments to your gear. Dust off your lenses, check your battery levels, and make sure everything is in proper working condition. If you would like to set up a "base camp." so to speak, you can typically find a spot somewhere at the venue to house all your gear. You'll want this spot to be out of the way and out of sight. Please be careful where you keep your gear (if it's not in your car). You don't want any equipment walking off while you're shooting.
Okay! So it's time to start shooting! For these next tips, I'm going to use my own personal methodology, but feel free to modify this schedule if it suits the shots you want.
TIP #3: BEGIN AERIAL AND ESTABLISHING PHOTOGRAPHY
Before I begin shooting, I always check over my shot list to remind myself of the shots I'd like to get. I typically start with drone/aerial videography first. For the FAA certified remote pilots out there, you'll want to check if any airspace authorization is required to fly at the venue. More than likely, you won't need authorization, but it never hurts to check! Especially if you're in a densely populated area.
Once your aerial videography is complete, I begin shooting b-roll shots. This could include shots of the venue, reception area, ceremony space, greenery and decoration, signage, and pretty much anything on your shot list that doesn't involve actual people.
TIP#4: SHOOT THE BRIDE GETTING READY (MAKEUP AND HAIR)
Once your bride enters the makeup chair, the clock is now ticking all the way to the ceremony.
 It's go time. You'll want to get any b-roll shots that involve her getting ready: shots of makeup being applied, putting on any jewelry such as earrings, slipping on her slippers, and (of course!) showing off that shiny wedding ring. If there is anything the bride would like to say to camera (such as reading a letter from her fiance), then now is typically a good time. You can also wait until she is fully dressed in her wedding gown if she prefers.
As an overall note: it's always a good idea for the bride and groom to talk as much as possible, whether separately or together. This will make your edit much, much easier to handle later.
TIP #5: OVERALL NOTE - COMMUNICATE WITH YOUR COUPLE, THE WEDDING PLANNER, AND THE PHOTOGRAPHER THROUGHOUT THE DAY
Always keep these three informed of what your plans are. If you have an interview with the bride scheduled at a certain time, make sure the wedding planner is made aware of this. The photographer(s) typically arrive about noon or so, depending on their contact.
It's extremely important that you are respectful of the photographers. They're trying to get certain shots in a very limited amount of time just as you are.
If I want to take the bride and groom aside for 10 minutes for some shots, I let the photographer know so that they can take a breather while I get them. Typically, they'll be cool with this and will appreciate the communication.
TIP #6: OVERALL NOTE - KEEP YOUR COOL AT ALL TIMES
A wedding day can be stressful and hectic for all parties involved. There is a great deal of pressure to make sure everything is pitch perfect within the span of just a few hours. The bride and groom have been looking forward to this day for a very long time.
It's your job to make them feel as comfortable and relaxed as humanly possible.
If things get crazy, always keep your cool. Remember: your role isn't that of a photographer, which requires certain poses and formalities.
Your job is to capture all the feeling and natural emotion that represent this couple's special day.
I typically tell the couple to almost act as if my camera isn't there at all, and just do what comes naturally to them. You'd be shocked at the amazing candid footage you capture just by letting the bride relax while makeup is being applied and she looks in a mirror. No fancy poses, no cheesy grins, just a relaxed subject happy to be getting married in a few hours.
TIP #7: SHOOT THE GROOM GETTING READY
The groom has arrived! Make sure you get some establishing shots of him getting dressed, putting on shoes, tightening his bowtie, etc. The more footage you shoot of this process, the better. And remember to ask if he wants to say anything to his future bride! This is a moment that they may rewatch after decades of being married; now is your chance to capture it.
TIP #8: OVERALL NOTE - NATURAL LIGHTING IS YOUR BEST FRIEND
If there are any lights on in the grooms parlor or bridesmaid parlors, shut them all off and put your subjects up next to a window.
These naturally lighted shots are going to be what makes your video shine in the edit.
It took me a long time to understand that lighting fixtures in domestic interiors aren't designed with photography in mind - they're designed to simply illuminate a space. It may seem counter-intuitive, but they will actually hamper your photography. Shut those puppies off, keep your ISO as low as possible, and your footage will look great!
TIP #9: OVERALL NOTE - BE AS LIGHT AND AS MOBILE AS HUMANLY POSSIBLE
Throughout the course of the wedding day, you're going to be moving around
A LOT
. You'll want to be as compact and light as you can with the gear that you walk around with. I typically walk around with my gimbal ready to shoot just about anything. I'll also strap a small pouch to my belt for batteries, lens cloths, ND filters, etc.
TIP #10: FROM HERE, FOLLOW YOUR SHOOTING SCHEDULE
At any moment of the day, be ready to whip out your shooting schedule and shot list. As the day goes along, check off each of your shots. There are plenty of wedding "must-have" shot lists out there on the internet, but here are the basics:
 Processional with bride's entrance
 First kiss as married couple
 Bride and bridesmaids getting ready
 Exterior shot of the church or venue
 Interior wide shot of the church or venue
 Groom and ushers hanging out
 Pinning boutonniere on groom
 Guests being escorted down the aisle.
 Guests sitting, reading programs and talking.
 Family members entering the venue or church.
 Father kissing the bride and handing off to groom.
 The ceremony. Record it all if you have the space and edit later.
 The must-have shots mentioned previously of the groom at the altar, the processional and         bride's 
entrance, the first kiss and the recessional.
 Exterior shot of reception site
 Guests signing guest book
 Guests enjoying cocktail hour
 Wide shot of reception room
 Close up of place settings
 Last dance of the evening
 The newlyweds as they exit the reception
BONUS TIP: KEEP THE WEDDING VENDORS IN MIND
If you really want to do the wedding vendors a solid, you can capture footage of them in action at the wedding. For example, you may want to capture the florist setting up bouquets on the reception area dining tables before the ceremony. Other vendor shots will be more obvious, such as the reception band. Your vendors will be very appreciative of the free advertising! And who knows - they might recommend you to some other couples!
PHEW! This was a big blog post, but we hope you found this information useful! We'll see you on the next blog post, where we'll be discussing what to do after the shoot is over.
HOW TO SHOOT A WEDDING VIDEO (PART 1 - BEFORE THE SHOOT)
Welcome to another blog post from Black Fox Productions! In this series of blog posts, we'll be discussing how to shoot a wedding video, broken down into three parts: before, during, and after the shoot.
Before we get started, I'm going to assume a few things: you've signed on with a couple, you've negotiated your rate, and you've nailed the date into your calendar.
So what comes next? You just wait until the day before the wedding, check over your gear, and hope for the best on wedding day, right?
If only it were that simple!
My experience with weddings has been that the more that you plan, the better (and easier) your shoot will go. Not only that, but your video will look remarkably better than average.
COMMUNICATE WITH THE COUPLE ABOUT WHAT KIND OF VIDEO THEY WANT
Every wedding video you shoot will be a bit different from all the ones you've shot before. This isn't to say you can't have a style of your own, but each wedding venue - and every couple - will bring something new to their video.
The first question you should ask your couple is what they are looking to get out of their wedding video. Do they just want the ceremony filmed? Are they wanting an epic wedding film that captures the entire scope of the weekend? Which parts of the day are unmissable as far as filming is concerned? These are all questions that need to be asked right out of the gate.
From there, it's your responsibility to creatively meld your vision with that of the couple's.
If they requested a specific style of music, if they plan to have speaking roles, whether or not they want first looks with Dad captured - these are all things to keep in mind before you ever start shooting on wedding day.
This one should go without saying, but you'll want to research the venue beforehand. Nowadays, doing a virtual tour of the grounds is only a Google search away. You can go ahead and start getting shot ideas from the pictures on their website. And if you can schedule a personal tour of the venue - even better. 
COMMUNICATE WITH THE WEDDING DIRECTOR (OR WEDDING PLANNER)
A wedding planner's job entails a great deal of responsibility. They must ensure that the day goes smoothly and according to plan, almost without a hitch. Every hour they are on site - from the moment the bridesmaids go into the makeup chairs to the fake leave - matters. You want to make sure that your shooting schedule (we'll get to that in a minute) fits seamlessly into their wedding day itinerary. Wedding day can be hectic, and every minute on wedding day counts - even if it's for a 15-minute block of time.
Let's just say, for example, that the bride has requested a specific shot of herself and her husband walking hand in hand through the forest. So you go to the wedding planner and tell them: "I'll need the bride and groom for 15 minutes after they've taken their formal photos with the family." The wedding planner can plug this specific shot right into their itinerary. When wedding day rolls around and formal photography ends, the wedding planner can pull the couple aside and give you some privacy while you get the shots you need. No stress, no hassle, no getting in the way of the photographers. Everybody wins.
COMMUNICATE WITH THE PHOTOGRAPHER(S)
One of the biggest challenges for many wedding videographers, in the beginning, can be a battle for time amongst the wedding planner, photographers, and yourself. But I have some good news for you - it doesn't need to be a battle! Something that I struggled with for my first few weddings was how not to step on the photographer's toes in trying to get the shots I needed. You don't want to be rude, but at the same time you want to get the shots you need, right?
It's very important that you get along with the wedding photographers.
Find out from the wedding planner who they are, and email them. Introduce yourself, and better yet, give them some compliments on their work! You'll be starting off on the right foot before you ever physically meet each other. And here's a pro-level tip: send them your shooting schedule. They'll know every shot you want before ever setting foot at the venue on wedding day.
And speaking of shooting schedules…
On the last wedding I shot, I sent a shot list to the wedding planner a couple of weeks before the wedding date. They were absolutely amazed that a videographer had documented the shots they wanted in an easy-to-understand list.
"No other videographer has done that with you before?" I asked, astonished.
"No - not one!" she said.
This is the tip that's going to take you from just another wedding videographer to pro-level.
If you make a shooting schedule, you'll be saving everyone massive amounts of time on wedding day. Everyone - from the couple, to the wedding planner, to the photographer - will benefit from this practice.
While you won't be able to plan every single shot on wedding day, it will pay massive dividends to have a shot listed schedule on your phone that you can reference at any moment.
As an example, below is a mock shooting schedule that I created for myself and sent to the wedding planner. She knew everything I needed and was able to fit in blocks of time for the specific shots requested.
VIDEOGRAPHY SCHEDULE FOR MR. AND MRS. SMITH
10 - Arrive. Shoot establishing shots of venue. Aerial photography. Shoot bridesmaids in parlor getting makeup put on.
11 - Bride Arrives. Shoot her interview. Shoot bride with dress over her arm. Shoot her opening her gift from Luke.
12 - Videographer #2 arrives.
12-1 - More establishing videography
1:30-1:45 - Shoot groom's interview. Shoot him opening his gift from bride.
2 - Bride in makeup chair shots. Shoot rings, wedding dress, etc.
2:40 - First Look with Dad
2:45 - Shoot groom getting dressed into tux.
3:15 - First Looks with groom
4-5:30 - Formal Photography
5:30-5:45 - Walking videography. Shot of bride silhouette against window.
5:45-6:30 - Set up camera equipment for ceremony. Shoot cars coming into parking lot, ppl walking up to pavilion.
6:30-6:45 - Shoot ceremony
7:15 - Introduction of new couple and first dances
9 - Both videographers dismissed
Notice that the schedule works in tandem with the wedding planner's itinerary. You're working around the schedule that's been established already.
When you're scrambling on wedding day, wondering where you're supposed to be next, all you've got to do is whip out your phone and reference the schedule. You'll want to kiss yourself for having done the ground work in advance. And so will the couple! Maybe not the kissing part - that would be awkward (but you get the point).
BONUS TIP: PRE-RIG YOUR EQUIPMENT THE DAY BEFORE THE SHOOT
This will save you massive amounts of time on wedding day. All you'll have to do is show up, whip out your camera rig, and you're ready to go!
As an overall note, I've found that the best wedding videos I've made have been a result of using these practices.
The more you plan, the better your video will be.
Everyone will win from having a good plan that is communicated to everyone.
We hope this comes in handy for your wedding shoots!
HOW TO START YOUR OWN VIDEO PRODUCTION COMPANY
ARE YOU CONSIDERING STARTING YOUR OWN VIDEO PRODUCTION COMPANY? HERE'S A STEP-BY-STEP GUIDE TO GET THE BALL ROLLING
​​​​​
DECIDE ON A COMPANY NAME/ESTABLISH AN LLC
Before you get into the minutiae of establishing a business, brainstorm some ideas for a company name. Bear in mind: your company's name will say a lot about you (even in a subconscious sense) to your future customers. Do you want the name to sound edgy and cool? Or warm and inviting? A drone videography company might name themselves "Ascent Productions," for example. Another thing to consider is whether or not to establish an LLC (a limited liability company). Some videographers rely on their personal name alone, while others create an LLC for legal, accounting, and tax purposes. Here at Black Fox Productions, we are an LLC, and if you want to be considered a bonafide production company in the long run, this is the route we recommend.
​​​​​​​

This one is
critical
. Your website is the first thing your prospects will see, and they will immediately decide whether or not you are worth hiring based on this aspect alone. It's also essential if you want to be found on search engines such as Google. There are many affordable website builders on the internet nowadays, such as Squarespace.com for under $20, that allow you to pick out a template and hit the ground running with content. You don't need to know how to write code to start a website. You just need some projects to showcase in your portfolio! Your website is the salesman that never stops working for you while you sleep.
This one might sound obvious, but you'll need a camera to shoot your projects. It's okay to start with a camera than you can afford. There are lots of DSLR's on the market that can run as low as $500 or less that shoot decent footage. Buying a camera is sort of like buying a car: you can spend as much or as little as you want - just bear in mind that high-end production cameras such as the Arri Alexa or Red Epic series can cost as much as a car... and that's just for the camera body. We advise starting in the mid-range (we're big fans of the Panasonic GH5 over here), and then working your way into higher end cameras. Can't afford a camera yet? That's okay! Start shooting projects on your phone and edit the footage together. Everyone in the industry had to start somewhere.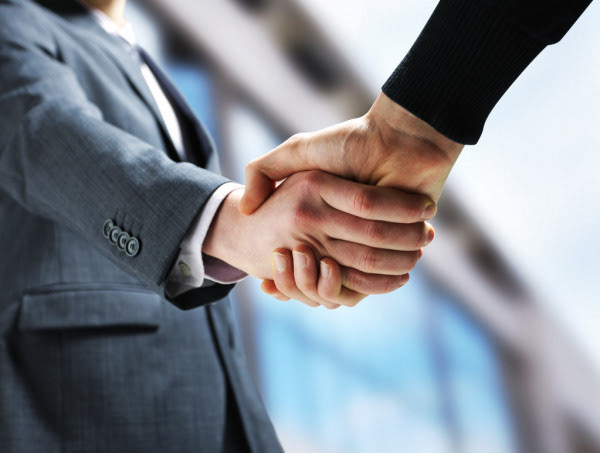 START FINDING CLIENTS. YOU MAY HAVE TO WORK FOR FREE (IN THE BEGINNING)
So you've decided on a company name, got your LLC paperwork filed, established a website, and purchased a camera. You're ready to start shooting. It's time to start finding clients! I have some good news for you: there are actually many ways to make money as a videographer in the high-demand business of video production. Real estate agencies, marketing agencies, small businesses, artists looking for music videos, brides wanting a wedding video - all these are potential client bases to tap into. Another industry that's become increasingly friendly with video that might surprise you is legal services. There are entire companies out there dedicated to nothing but creating promotional videos for law firms.
In the very beginning, you may have to work for free - at least for your first few projects. This approach can be as simple as approaching friends and family to see if anyone they know might want a video for their business. You can try cold-calling businesses near you and introducing yourself. "Hello! I'm Jack Moffet with Black Fox Productions," you might say, "Would your business need a commercial made? I'm willing to work for free." Remember: your first project doesn't need to be a Martin Scorsese production. Just do your best and enjoy the process.
FOR LATER DOWN THE LINE, WHEN YOU'RE MORE ESTABLISHED
Below are some tips for when you get some projects under your belt.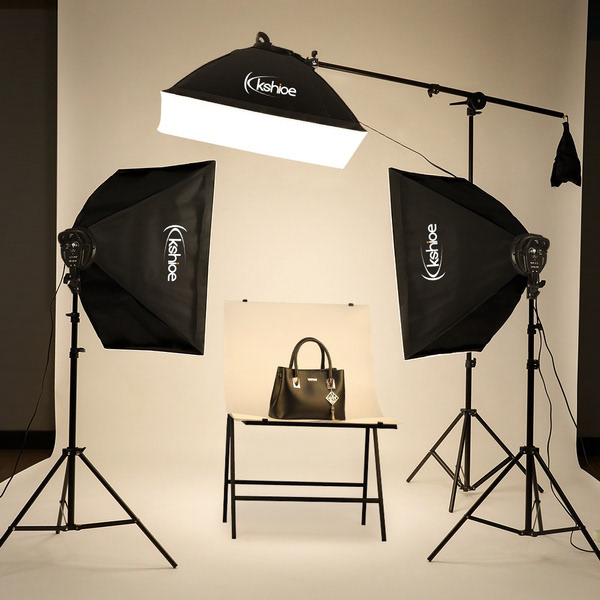 DON'T SKIMP ON LIGHTING AND SOUND
Lighting and sound are what separates the men from the boys and the women from the girls. Lighting can take a little while to learn, but once you learn how to light your subjects and make them appear more "cinematic," the results can't be understated. Lighting is everything. We can't recommend enough investing in a lightweight lighting kit. You can purchase a 2-light LED kit for under $200 from companies such as Neewer.
Equally important is sound. Utilizing a lavalier mic during interviews is worth its weight in gold. Not only will your audio be clean, but lav mics isolate dialogue almost perfectly. We strongly recommend purchasing a lav mic system if you are planning to shoot weddings and interviews. You'll absolutely thank yourself later.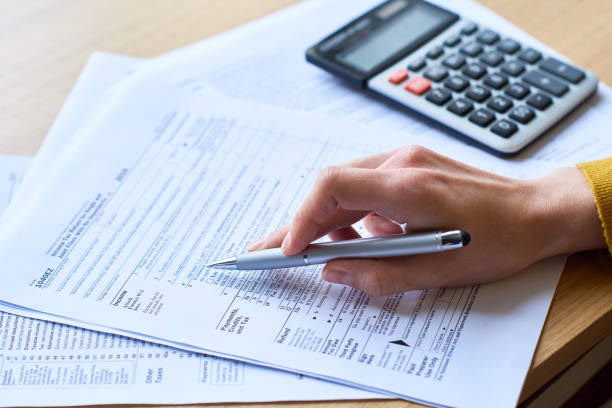 This tip is more administrative- and accounting-based, but do keep your taxes in mind. Most companies will hire you on as an independent contractor - meaning you'll be filed in their books as a 1099-MISC expenditure, at least from the IRS's perspective. You'll be responsible for paying taxes on that income (which as of this writing is set at 15.3%). So make sure you keep track of your business expenses throughout the year when it comes time to file. Anything you use to make the business run - equipment purchases, travel expenses, subscriptions to editing cloud services like Adobe - all these things are considered a tax write-off. The sooner you start keeping track of your business expenses, the better! And the less of a headache you'll get once tax season rolls around.
DECIDE WHAT TYPE OF PRODUCTION COMPANY YOU WOULD YOU LIKE TO BE
Finding your niche is something to consider for later down the road. What type of projects do you want to focus on in the future? Do you want to strictly focus on being a wedding videographer? Or would you rather make high-end commercials for big companies with gigantic ad campaigns? Do you want to make feature-length films? Or just focus on music videos? In the beginning stages of your company, it's okay to be a jack-of-all-trades until you're more established. But it never hurts to start considering the future focus of your company.
A final note: it can take a little while to get a production company going. Be patient, always be professional and courteous with your clients, and the work will come to you.
We hope this has been helpful, and good luck in starting your video production company!
THE DJI RS2 IS PERFECT FOR WEDDING VIDEOGRAPHERS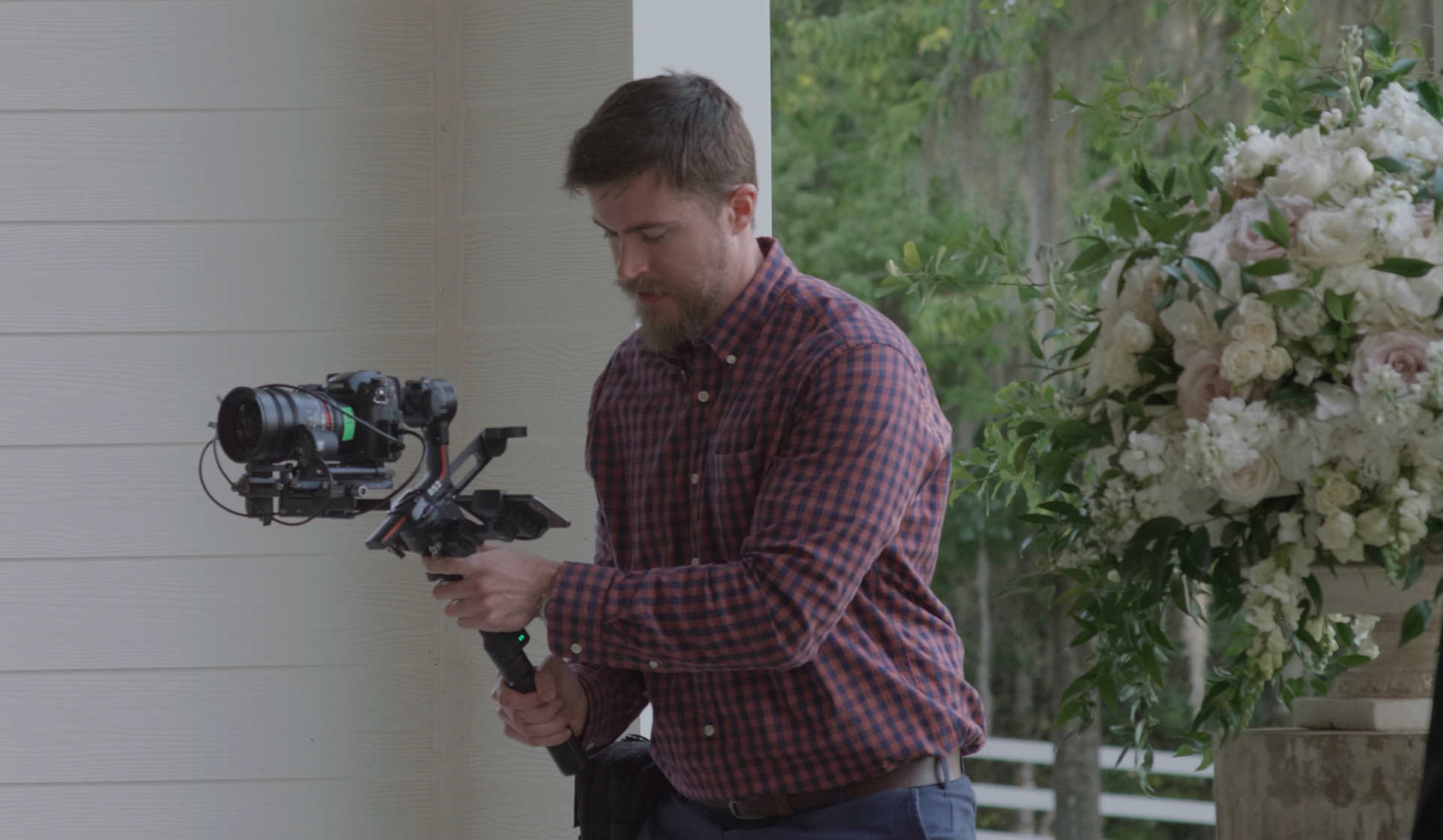 In this blog post, we'll be discussing a piece of equipment that has become absolutely essential in my equipment kit: the DJI RS2 camera gimbal. I'll cut right to the chase if you are considering buying one to shoot your videos:
it's pretty awesome.
Having used the gimbal for multiple shoots by this point, I'll take you through what I consider to be the pro's and con's of DJI's newest flagship camera stabilizer.
Pro #1: Your Shots will be Buttery Smooth
This is probably the most important for us videographers. After all, this is obviously why we use the gimbal in the first plac

e: to achieve those awesome looking, cinematic tracking shots. The new SuperSmooth option provides an added layer of stabilization even when you are moving quickly (such as leading the bride down the aisle when she makes her grand entrance or circling around your couple during their first dance). There are bound to be those

slight bumps in the footage from your footsteps (as with any gimbal), but overall my experience with the actual stabilization of footage has been a positive one.
Pro #2: Compact, Light, and Mobile
I recently purchased this gimbal as an upgrade from the Ronin M, and while the M is great for stabilization in general, it can be extremely cumbersome to lug around while shooting at weddings. When protracted over the course of a full shooting day, that can be downright exhausting. In order to sit the gimbal down, you have to carry the balancing bracket along with the gimbal itself. Overall, it was too heavy to be practical and can be a pain to deal with if you're a wedding videographer.
The DJI RS2 eliminates all those problems. The bottom screw-on handle of the gimbal also functions as a mini-tripod with three legs attached. You can sit it down on any stable surface, and oh my
lord 
is it easy to carry. If you need to walk a considerable distance, you can even lock the three axis' motors into place and carry the fully-rigged gimbal with one hand. The convenience can't be beat.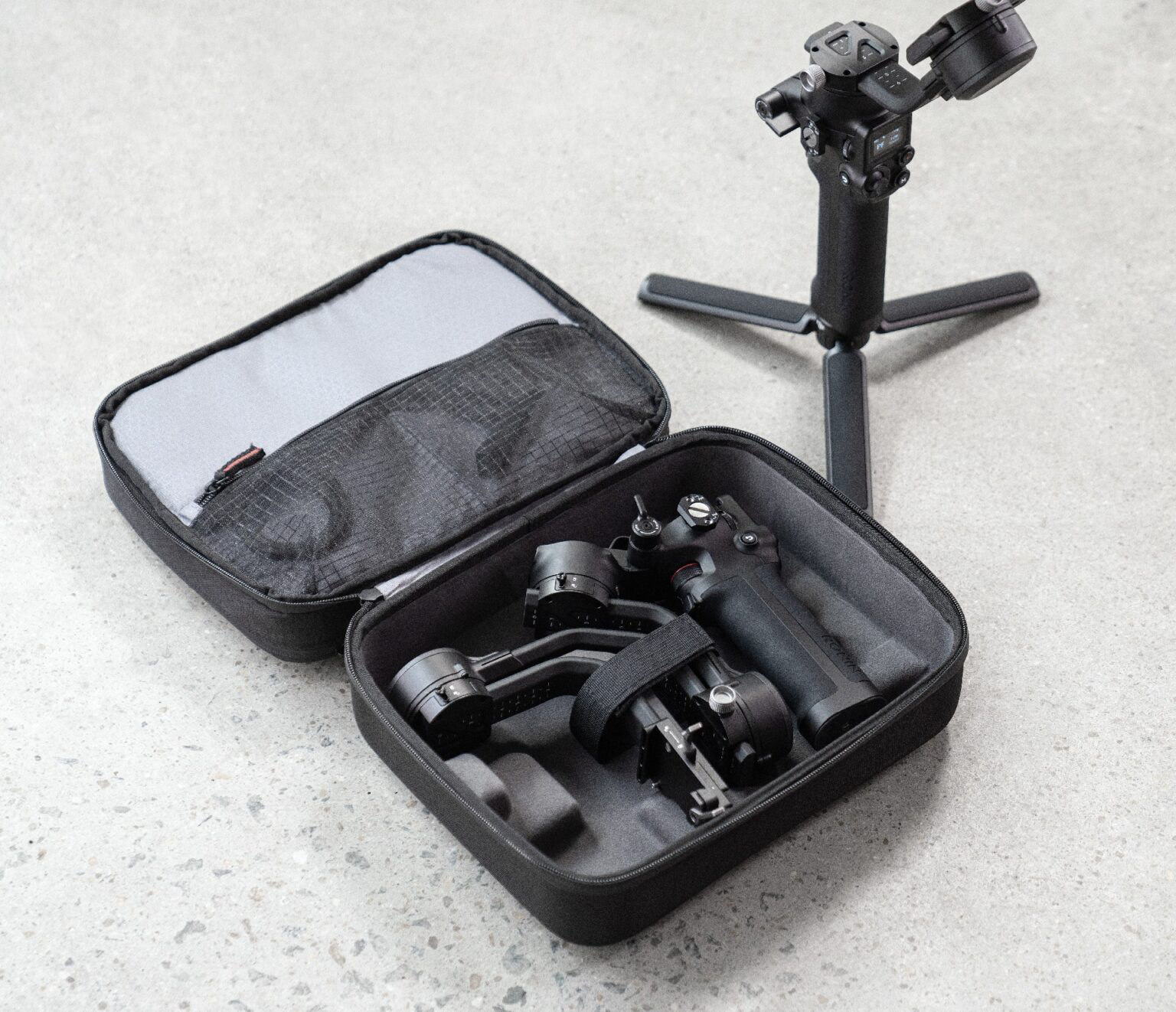 The gimbal itself is extremely intuitive to use in general. While initial setup can take a little bit of time (I'll discuss that as a con later in this article), once your camera is fired up and ready to go, the controls are placed in extremely convenient positions within a finger's reach. The ability to control the focus motor with a roll of your index finger is absolutely critical when shooting can't-miss moments such as first looks with the bride and groom. If you decide to purchase the new 3D Focus System, even better (in my case I went without it and settled for the Pro Combo package that included a focus motor). There is another added feature on the gimbal that's fantastic: a touch screen. If you need to calibrate your gimbal and make sure those motors are nice and tight, a couple of buttons and the RS2 will test out each axis' stiffness using Auto Tune. If you need a quick view of the gimbal's active track shot, it will show up on the screen when activated (although this isn't as good as an actual external monitor). So when it comes to ease of use and ergonomic design: bravo DJI.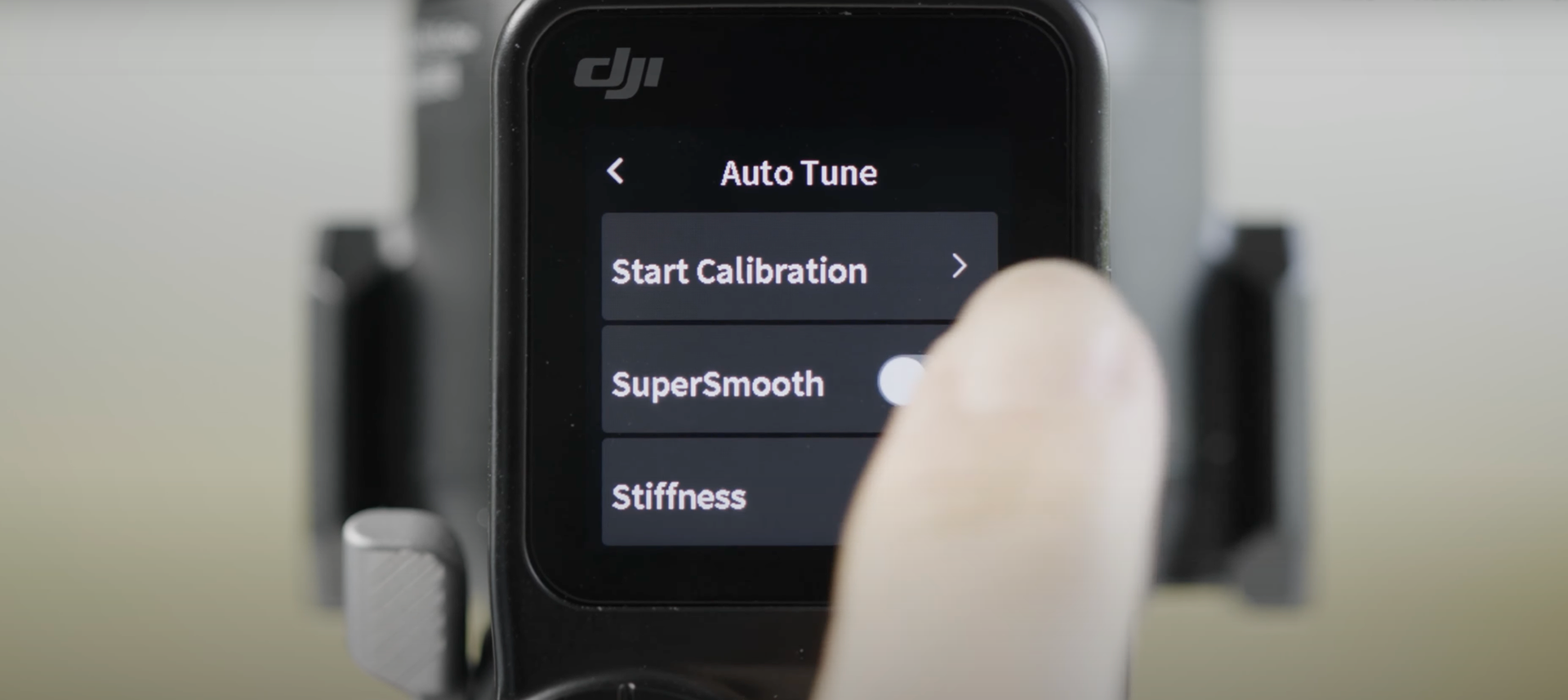 Pro #4: The Raven Eye Wireless Video Transmitter
The Raven Eye is essential if you're deciding whether or not to purchase the RS2. You may not think you'll need it, but
oh will you.
There are many times when I would want to get low to the ground when shooting, and in cases like this it's essential that you use the Raven Eye so you can view your shot. Not only that, it eliminates the need for a bulky external monitor like you would need to use with the Ronin M. I have almost no complaints about this system. It's easy to use and the convenience of using your phone as an external monitor is ingenious.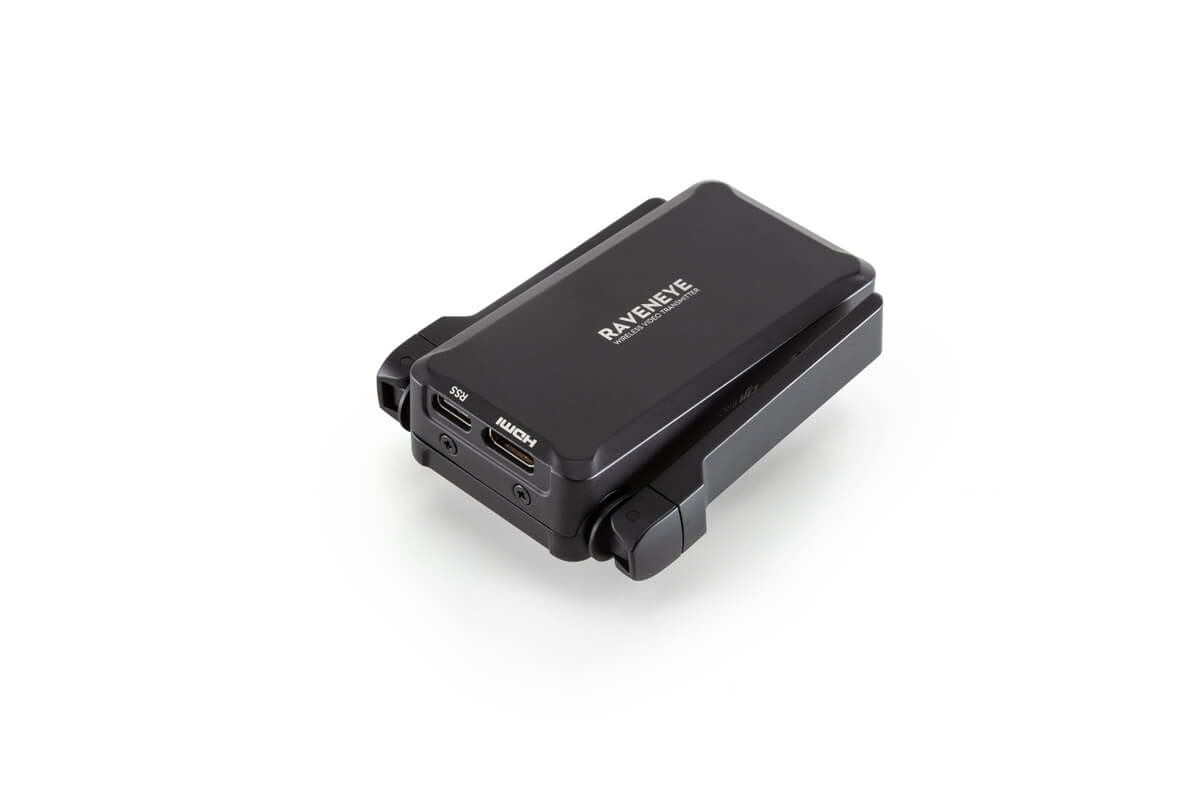 I'll list this feature as both a pro and con, seeing as there are both some great positives here while also recognizing some caveats. While the battery life of the DJI RS2 is ample, I'd say you'll be able to get a solid 10 hours of use out of the gimbal if you use it constantly. If you let the gimbal rest in sleep mode occasionally, the advertised 12-hour battery life is more feasible. That's
crucial
if you're shooting a wedding over the course of a full day. I think DJI's claim that the battery can last a full 12 hours while in constant use is overestimating things just a bit. If you're putting this gimbal through the ringer with hours of non-stop shooting, it's my opinion your battery will run out before those 12 hours are up. I can't complain about this too much, as being as able to shoot potentially for 10 to 12 without a recharge is fantastic. But this is something to be aware of if you start shooting a wedding at, say, 10 AM in the morning and go all the way to 10 PM at night. I would carry your charger with you just in case you need to recharge later in the day as your battery drains. A note on charging: it takes a while - and by that I mean a couple of hours. You'll certainly want to let the battery charge overnight before you head off to your shoot.
Con #1: Assembly. Cords, Cords, and more Cords
Out of the box, the RS2 can be intimidating in terms of assembly. When I received the gimbal in the mail, I spent a solid half day doing nothing but putting it together. While DJI does a good job of providing plenty of instruction booklets and how-to videos, it's still a bit confusing as to which cord plugs into which port. With a complete rig, I ended up with four cords in total plugged into the gimbal and camera (and this isn't including the optional 3D Focus System). I'm sure in the future DJI may find a way to integrate all connectors into a single cable, and granted I'm no engineer, but overall this is a small price to pay for the overall convenience once fully assembled. I can undoubtedly say that I'm much faster in building the rig having shot with the RS2 over the course of the last few months, but this is something else to bear in mind when you are up against the clock on wedding day. I always assemble the RS2 the night before specifically so I can save time when I show up to the venue.
​​​​​​​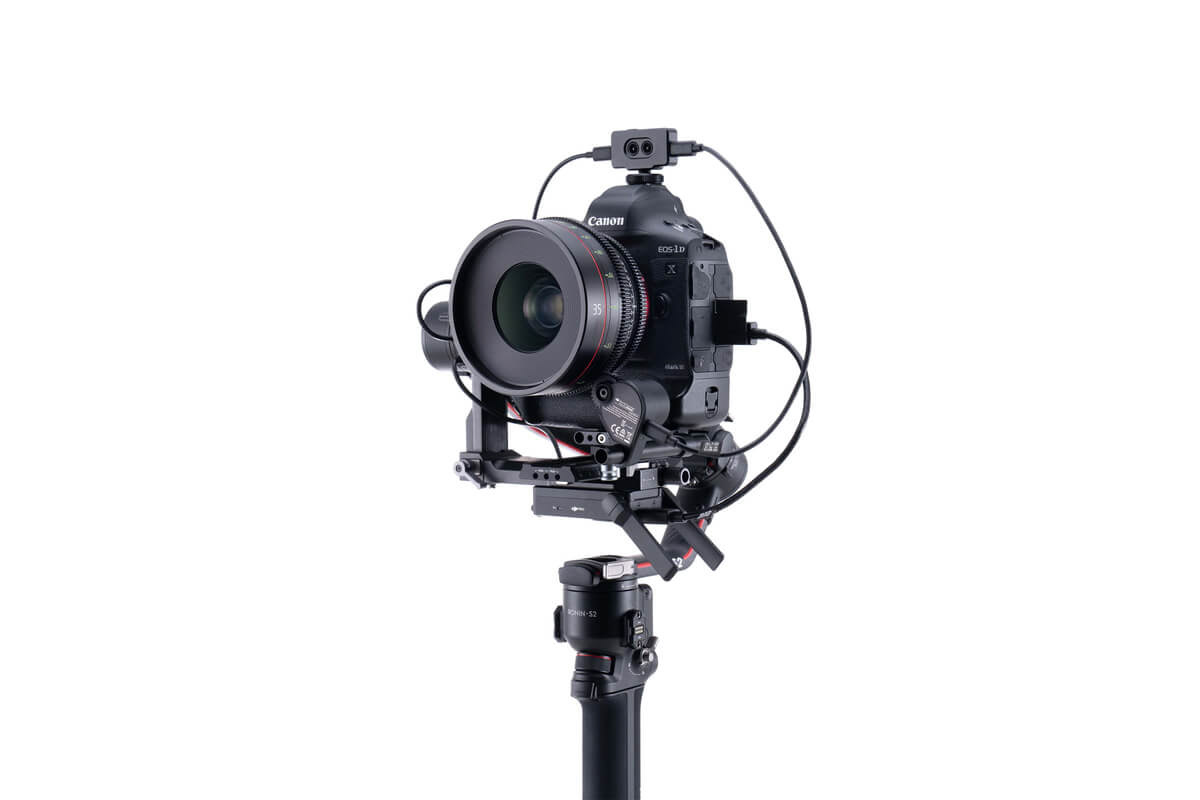 Con #2: Active Track Could Still Use Some Work
I think an enormous benefit to future iterations of Active Track would be improvements in facial 
recognition, similar to the software used in iPhones. It honestly might be that I'm new to using the gimbal's firmware, but there were times when my focus point was lost and the camera struggled to track the point I dictated to it. This is something that DJI is undoubtedly working on improving, and will only improve with each new version of Active Track.
It's also a requirement that you purchase the Raven Eye system in order to use Active Track in general, and while the system works great, I'm sure there are videographers out there that would like to be able to use it strictly with the built-in touchscreen for a more cost-effective option.
Conclusion: Absolutely Worth the Price Tag
If you're deciding whether or not to purchase the RS2, I can say wholeheartedly that this gimbal is worth the money. Obviously the pro's outweigh the con's, and ff you're a wedding videographer, look no further the RS2. I can't say whether it would be worth your an upgrade from the Ronin S, as I jumped directly from the Ronin M to the RS2, but I'll definitely say my experience with this gimbal has been a positive one. The convenience of mobility and intuitive controls make for a perfect run-and-gun videographer's gimbal.
why i still use the panasonic gh5 to shoot video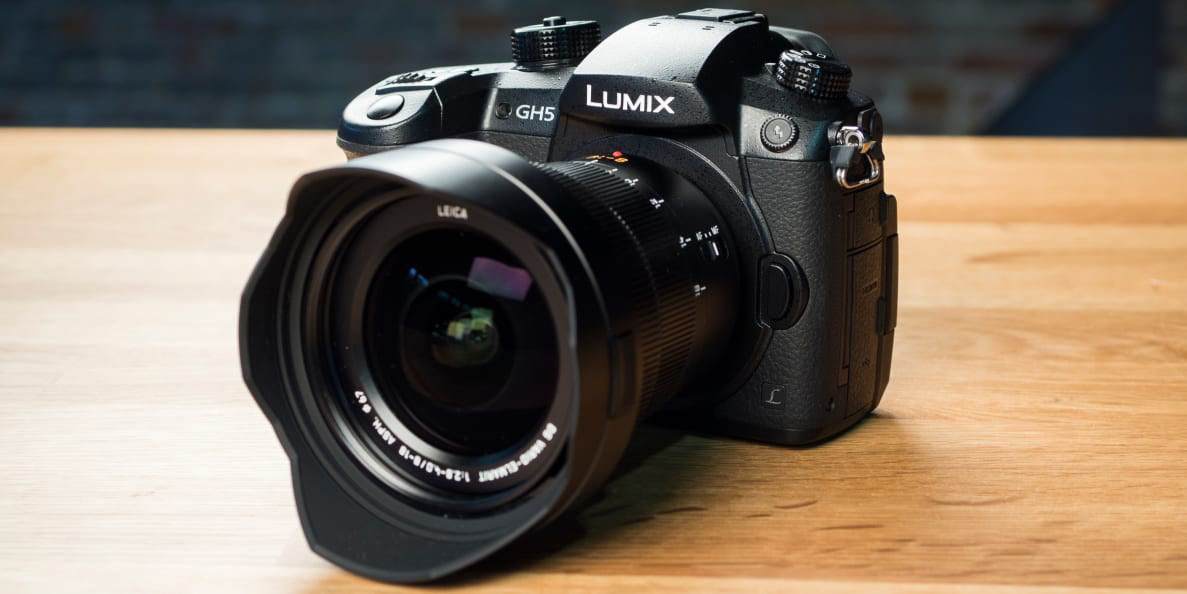 In this blog post, we'll be discussing a camera that needs absolutely no introduction in the world of videography: the Panasonic GH5, and why - even going on four years after its original release - I still use it for shooting video.
The GH5 (at the time of its release in March 2017) was a major game-changer: it was the first mirrorless came

ra capable of shooting 4K resolution video with 10-bit 4:2:2 chroma subsampling. When its sister camera, the GH5S, was released nearly a year later in January 2018, providing even better performance in low light, videographers the world over understandably felt their eyes pop out of their head when reviewing the dynamic range and color space of their footage. Suddenly, anyone with a GH5S in their hands could consider th

emselves a filmmaker at an unbeatable price-point. I purchased my own GH5S in November of 2018, and I've fallen in love with the camera ever since.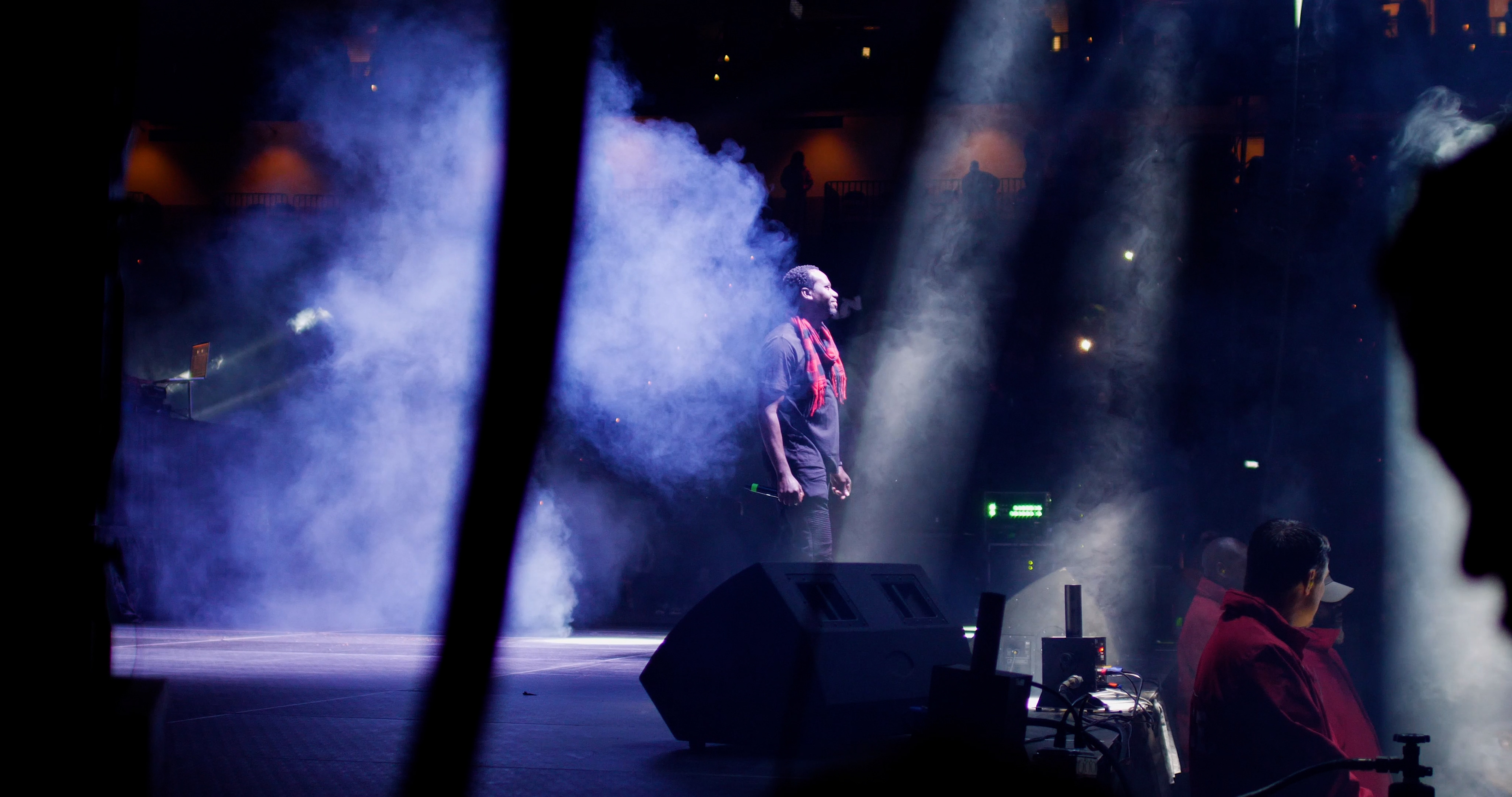 As goes without saying, the GH5 is an absolute workhorse of a camera. The footage is breathtaking even in today's era of popular full-frame cameras such as the GH5's big sister the S1H or Black Magic's Pocket Cinema 6K. When equipped with V-Log, the camera is capable of shooting footage that is downright cinema-worthy. I've been shooting with the camera for several years now, and I can tell you first-hand that the camera is worth every penny of its price-tag if you are an aspiring videographer or filmmaker. If you are interested in wedding videography, just take a look at the still below taken directly from a wedding video I shot in last November of 2020.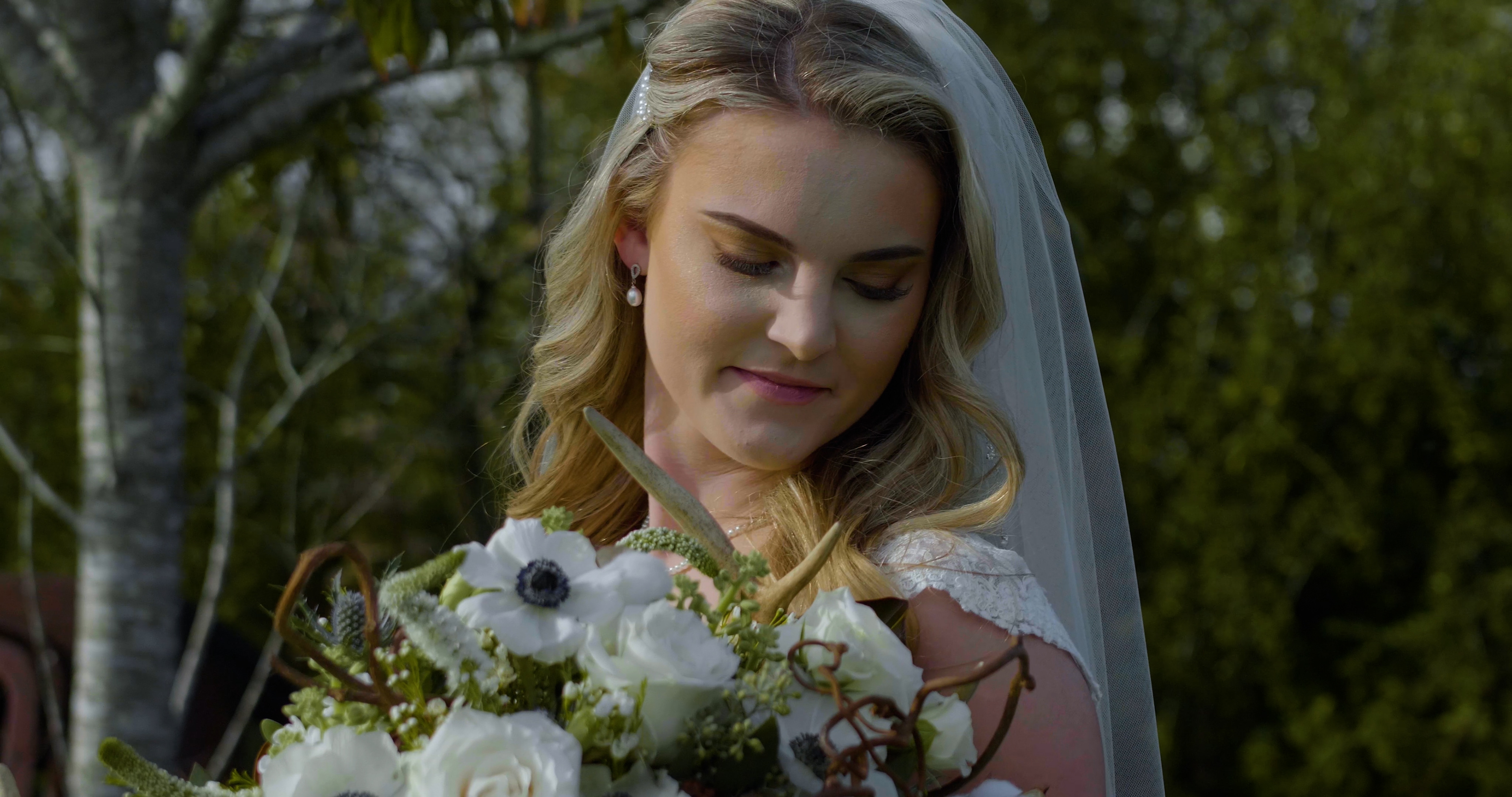 If you are looking for a starter camera, I can't recommend it enough. With the GH5 currently priced at about $1400 and the GH5S at $1900, both are a steal. All that being said, I will also be the first to admit that the camera is due for an update. Four years after the original camera's release, professional videographers have been waiting breathlessly for an update to the GH5. The S1H, released in September 2019, took the lead in full-frame mirrorless video and has been a very popular choice ever since. So.... where is the next camera in the GH series?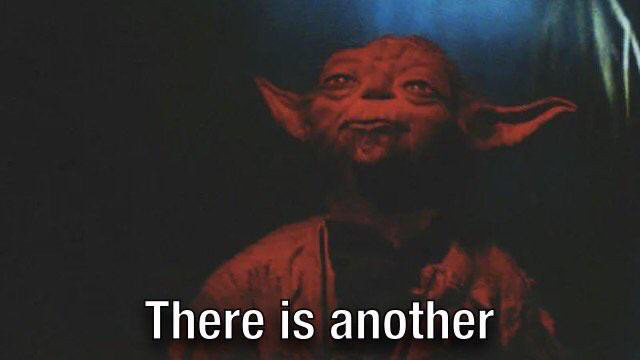 The Panasonic GH6 is rumored to finally arrive this year.
And the potential specs are nothing short of exciting. According to 43Rumors, it's rumored that the camera will be capable of recording 8K video - an astonishing resolution for any videographer. Although it was originally slated to be released in mid-2020, the camera was withheld from release due to the COVID-19 pandemic. If the rumors hold true, the GH6 could well become the first practical 8K video camera at its size and price-point. Once again, the GH line of cameras may break barriers for countless professional videographers looking to achieve the "Hollywood" look in their footage.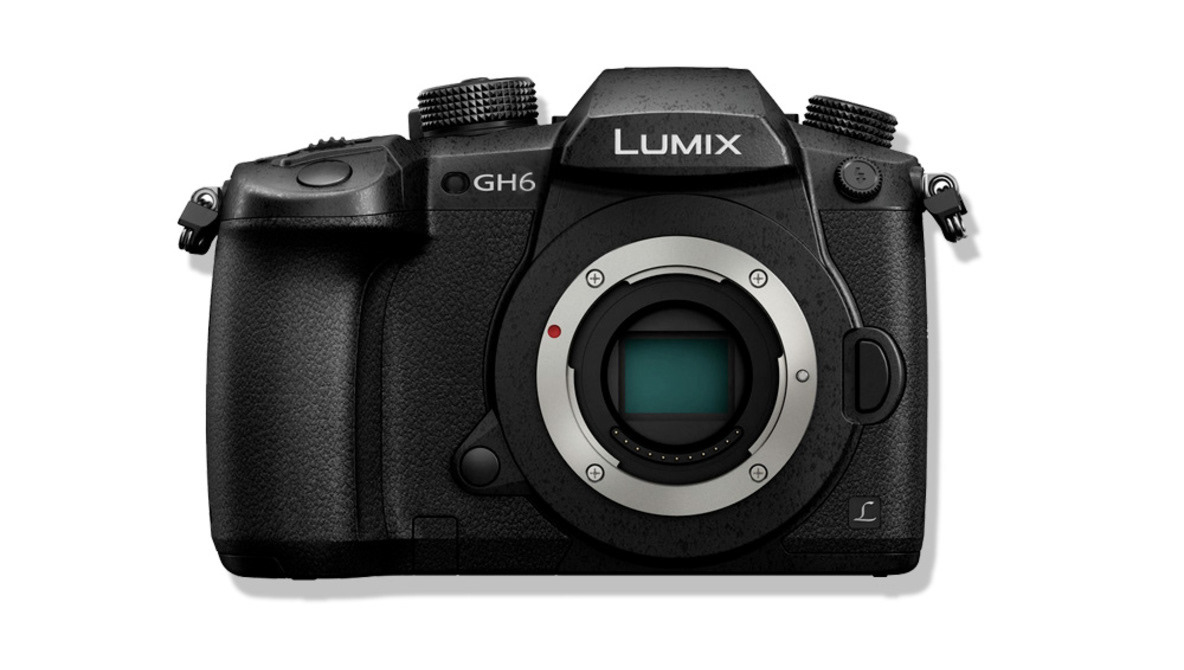 I'm going to go out on a limb here: I think this is going to be the most popular video camera release of the year. For professional videographers like myself, the camera could well become a dream come true for many. There are rumored to be three versions of the camera: the GH6 (the base model), the GH6V (aimed at video shooting), and the GH6X (likely aimed at professional photographers). The price of the camera is expected to be around $2500. At that price range, if you can afford the camera and have some patience to spare, it will be absolutely worth your wait. If the price tag is outside your budget, you can expect the GH5 to drop in price as soon as the GH6 is released. As stated before, you'd be hard pressed to find a better starter camera than the GH5.
So are you are as excited as we are to get your hands on the GH6? We know we're ready!
VIDEO MARKETING IN THE MODERN AGE
January 25th, 2021
Hello! And welcome to Black Fox Productions' very first blog post. In this post, we'll be discussing the importance of using video in your marketing strategy, and why it has become a standard in virtually all modern marketing infrastructures.
​​​​​​​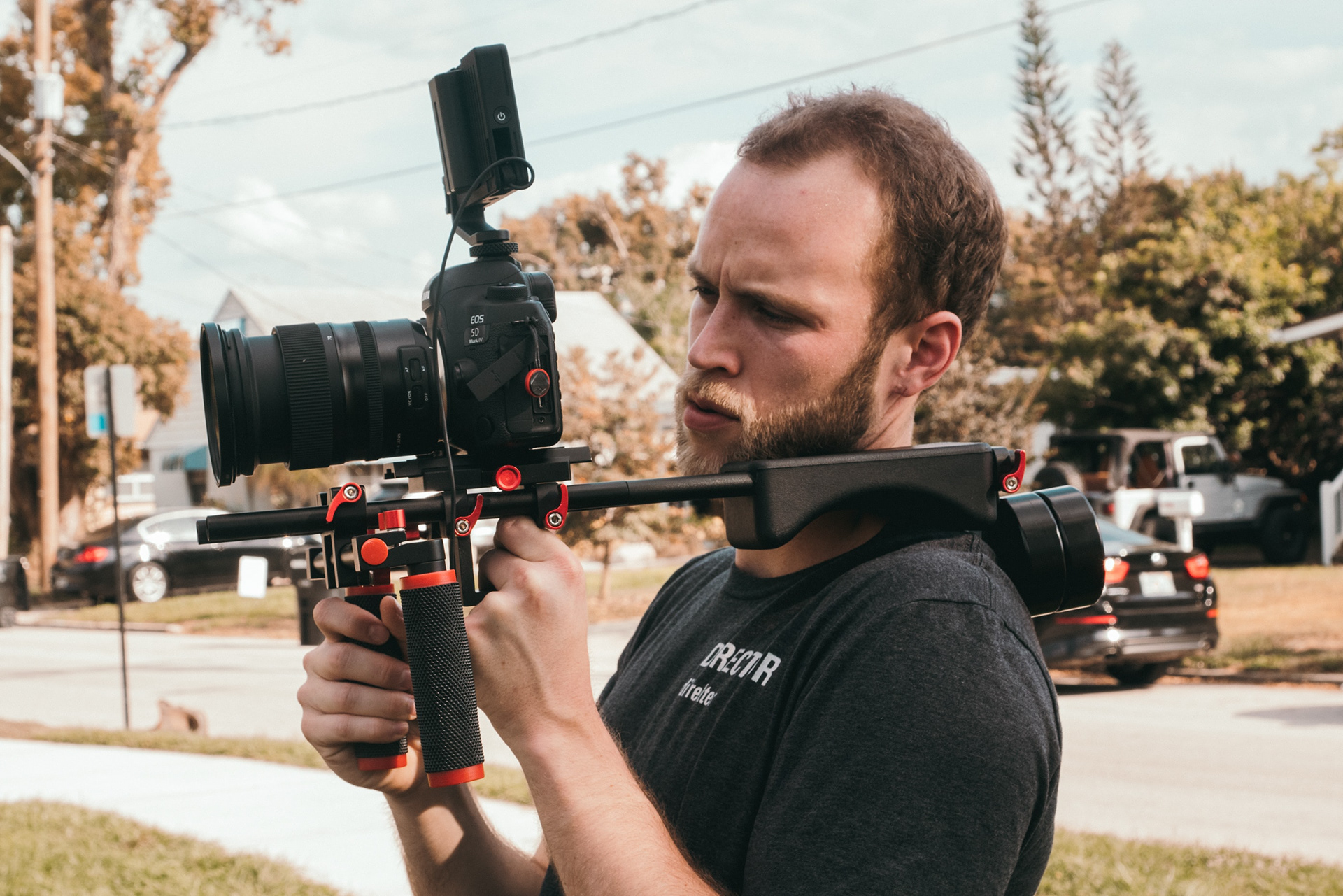 A common question I get from many business owners is: "How would a video benefit my business?"
This is a very valid question, as the benefits may not be inherently obvious at first glance. It may seem like an extravagant expense to hire a videographer or production company, but the statistics couldn't possibly contradict this notion more and absolutely speak for themselves.
According to a 2020 study by Wyzowl*:
- 89% of video marketers say video gives them a good ROI.
- 83% of video marketers say video helps them with lead generation.
- 87% of video marketers say video has increased traffic to their website.
- 80% of video marketers say video has directly helped increase sales.
*https://optinmonster.com/video-marketing-statistics-what-you-must-know/
Study after study has shown that businesses (both small, medium, and large alike) are benefitting from video in their marketing strategies.

It's not only becoming popular to use video, it's becoming a standard.
When I first began studying film and video back in college, it was somewhat of a novelty trade. There were the professionals who ha

d access to equipment that cost as much as a house, and then there were people who watched the television shows, movies, or news broadcasts produced by those professionals. With the advent of social media - such as Youtube and Facebook - the entire landscape of videography and filmmaking changed. With the invention of smart phones, the access to endless forms of media (especially video) was now available in som

eone's pocket at the simple push of a button, and it was available instantly.
This democratized media as a whole. Suddenly, anyone with a smart phone could post a video to their business's Facebook page and reach all of their followers within seconds. Videographers could now purchase cinema-grade DSLR cameras at a fraction of the cost, and overnight they were filmmakers. Businesses are now creating their own video departments specifically to address this ever-growing demand for more video in their marketing platforms.
​​​​​​​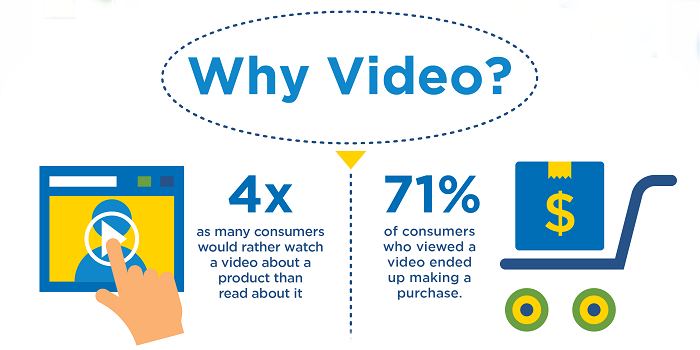 So when it comes to video benefitting your business (and I'm sure as a professional videographer I have some unapologetic built-in bias here), it's my opinion that video is a worthwhile investment. A single video post on your business's Facebook page can potentially generate thousands of viewers. Overnight, your prospects have ballooned exponentially and that means potential conversion of more leads.
​​​​​​​
Are you a small law firm, looking to gain an edge on the other firms in your area? Look no further than video marketing*. There are entire companies dedicated to nothing but law firm video marketing. Are you a medical practice, looking to gain more patients? A video commercial highlighting your services is a great way to go. Do you own a restaurant? A short documentary-style video highlighting delicious food being made will make your customers want to come eat dinner at your business on Friday night. Run a dance studio? How about a cinema-style short showcasing one your student's dancing skills? Are you a real estate agent, hoping to sell a hot new property? A video walkthrough of the listing is statistically more likely to generate leads.**
*https://www.sundownmarketing.com/5-ways-to-use-video-in-law-firm-marketing/
**https://www.inman.com/next/by-the-numbers-how-to-focus-your-video-marketing-for-the-biggest-return-on-investment/
Not only that, but video is entertaining and easy to watch. It's the easiest and most effective way for a prospect to research your brand before deciding to buy from you. A quick "About You" video introducing yourself as business owner develops a sense of openness and trust. We live in a highly risk-averse consumer culture. Your prospects want a guarantee that their hard-earned money won't go to waste. And what better way to do that than showcasing what your business can offer to them?
This trend has only become more ironclad with the recent COVID-19 pandemic, solidifying video's place in the marketing industry. Businesses and customers alike are utilizing video now more than ever before.
So what are you waiting for? Let's talk about your video!